I think you could probably expect to earn around $50 for gold foil Nolan Ryan and Mickey Mantle baseball cards.
As with any sports card collecting, the value of an item can vary both year-on-year, and on how needy the buyer is to own a card.... so there's a chance you could make even more money!
Valuing your baseball cards
Value also depends on the condition of the card, and if yours aren't in mint or near mint condition, then I wouldn't bother selling them. If your cards are mint (as in untouched), you could probably sell both for around $20 to $25.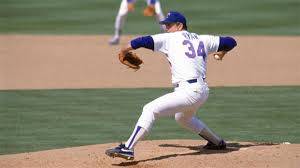 The Mickey Mantle 1996 card, a reprint of the Topps 1952 card of Mantle, seems to come up less often for sale than the 1993 Nolan Ryan card, and so is often valued slightly higher. The average price it is offered at is around $10.
The 1993 Nolan Ryan card often appears on auctions sites at starting prices of $5, though I have seen professional collectors and traders sell at $35-$40. If if's the one card left you need, I guess you'd pay that much. If you started you bidding for both cards at $20 say, and see how that goes, then you might get a good price for the pair.
To compare values, have a look at rubylane.com, sportstraderjournal.com or sportscardfun.com. To view similar questions on Blurtit to your own, check out How Much Is My Nolan Ryan Pro Mint 1993 22 Caret Gold Card Worth? or What's The Value Of 22kt Gold Baseball Cards?