A 1923 Peso contains 12 grams of silver which is 72% pure silver. This 'mix' was used for 25 years.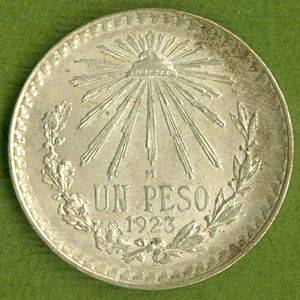 Previously, in fact until 1911, the silver contained in a Mexican Peso was 24.44 grams which is the same weight as the 'pieces of eight' coins from the era when Mexico was ruled by Spain.
By 1945 the value of silver had increased and in fact the silver contained in the 72% silver Peso was actually worth more than a Peso so it was no longer feasible to mint the coin.
So in 1947 another Peso was introduced, this time containing only 7 grams of silver however, after only 3 years again the value of silver became greater than one peso and they had to think again!
So if you have one of these, it is probably worth getting it valued, although it may well be worth more to you in sentimental value.