There are many printable Boggle games on Print Activities and there are lots of different categories to choose from, most of them are suitable for teens & adults too.
When you view one of the games in your browser, you will see ads on the page, but these ads don't appear in the print out, so you have nothing to worry about.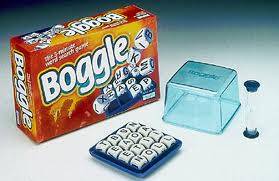 Playing Boggle online (no printout required!)

If you don't want to actually print the grids out, there is a site called Word Twist where you can play online against people from all over the world. This option is good for when you run out of ink! :-)
Please note that, although these two sites offer the Boggle game and are, for all intents and purposes, valid Boggle boards... as Hasbro own the game, both sites have 'customized' the rules slightly, to avoid problems such as copyright infringement.
For instance, including a rule instructing players to play round of two minutes instead of three. It's just to cover them legally really, and shouldn't make too much difference to your enjoyment of the game.