The highest valuation I've seen for a NM+ copy of Marvel's 'What If...' #1 is from Overstreet, the regularly published comics book value guide, which values this at $68.00.
 As is always the case with comic book collecting however, the value of a comic isn't necessarily the price you would be able to sell it at.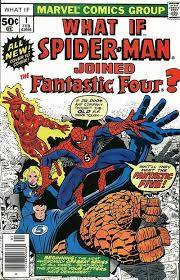 Selling comic books as an individual for fun is a lot different to selling as a professional comic book dealer, who are aware of every tiny detail concerning the quality of the comic, and need to make a living from selling such items. 
They may also have customers who prefer to know exactly what they are buying and who they are buying it from.
Some Seller's Prices for What If #1
Newkadia.com lists What If #1 in Very Fine condition at $19.00, while Comicbookrealm.com gives a price of $30.00 for a Near Mint copy, and Nostomania.com values What #1 at $21.10. If you are confused as to comic book gradings and how you copy might shape up, nostomania provide a guide to grades here.
Just to show you how difficult it can be to sell a comic at 'valuation price', a copy of Marvel's What If #1 is currently on sale for £7.00 on the UK site for eBay ($12.65) but has yet to attract a bid. 
Why not keep the comic and build your collection? Here's a few tips from one of YouTube's geekiest geeks to help you out: