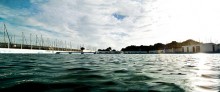 According to the Guinness World Records, the largest swimming pool in the world is San Alfonso del Mar Seawater pool in Algarrobo, Chile. It is 1,013 m (3,323 ft) long and has an area of 8 ha (20 acres). At its deepest, it is 35 m (115 ft) deep. It was completed in December 2006.
This can depend on classification however as there are a number of categories in to which a swimming pool may fall; for example there are:
-  indoor and outdoor pools
- heated and non heated pools
- fresh water and saltwater pools
- filtered and non filtered pools
- natural or man made pools.
According to some sources the pool situated in the Sonny Carter Training Center at NASA is the largest indoor pool while others claim the Sun-lite pool at Coney Island in Cincinnati, USA to be the world's largest filtered pool. Another source confirms the Weyermannshaus pool in Bern Switzerland as the largest; the pool is a natural one with an island situated in its midst. Standard Olympic pools are also quite big measuring 50 m (164 ft) in length and 25 m (82 ft) in breadth.